Pet Rehoming Network Reviews and Testimonials
Because of the very personal and emotionally difficult nature of having to rehome a pet, most of our clients understandably wish to remain anonymous. We do not like to impose on our clients to provide public testimonials, although we do receive some unsolicited recommendations.
If you are considering rehoming a pet, and would like assurance from pet owners who have used our service, please get in touch. We can provide references which you may contact directly.
The following testimonials were provided to us by clients – both those who have rehomed a pet through our service, and those who have adopted a dog or cat through Pet Rehoming Network.
Pet Rehoming Network Testimonials
The lady that runs Pet Rehoming Network has to be the sweetest, most kind person in the rescue business. She spoke to me for more than 2 hours about my situation. She was incredibly empathetic. I was a mess and couldn't stop crying. Just talking to her made me feel sooo much better, and when she laid out how they go about finding good homes for pets, I actually felt hope for the first time in months. She explained that I could keep in touch with Lucy, and that they would keep looking for as long as it takes to find a new owner that I was comfortable with, and I did not have to settle on anyone I wasn't 100% confident in. This is such an awesome service. I had been in touch with a couple of local rescues and they were all full and not accepting new dogs. They actually recommended that I call Debbie. We just placed Lucy into her new home yesterday. I am sad, of course, but I am also very grateful to have found such a good home for her. Debbie has already called with an update on Lucy's adjustment. Peace of mind pet adoptions for sure. I can't thank you enough, Debbie. You and your amazing team made a terrible situation more than bearable. Feel free to use me as a reference! Hugs, Celia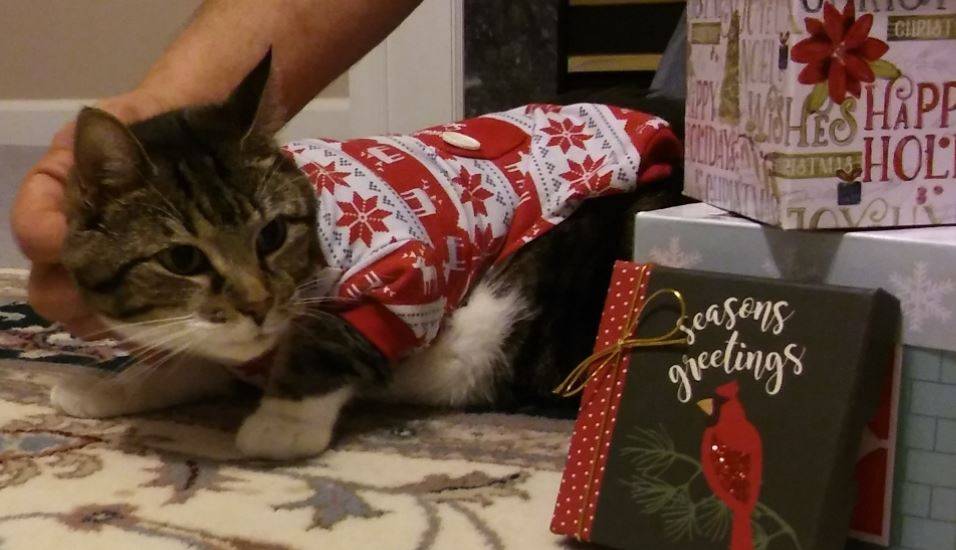 I want to thank you for your help in helping me to find Zoey and adopt her. She is the love of my life and she is so intelligent and sweet-- just like my "Sam "who had died this spring.

I am now convinced that perhaps it is all in the breed of the American Short tailed bobcat. She is adapting to her new home nicely, plays with toys and even brings a couple of them to me. She even sleeps on the bottom of my bed at night. So thank you for helping us to bring Zoey and me together.

Your service is wonderful and I thank you again for your rehoming service and making sure that pets go to a wonderful home. I am sure that the pets that you help get adopted are the lucky ones.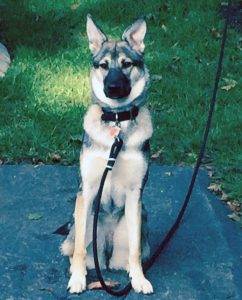 Hi Debbie,

We met this evening - Charlie met their dog and their brother's dog and they all got along famously.

It is a wonderful match - Charlie absolutely loved them and we could all tell that she was going to be happy with Chris and his family.

They took Charlie with them tonight - it was tough - but I know in my heart it was the right thing to do for Charlie.

I can't thank you enough for helping me through this impossible task so quickly - you are a blessing!

Kind regards, Craig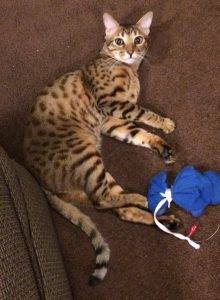 Jagger loves his new home already and is with a loving woman who I keep in touch with all the time!! They couldn't be happier and I owe you my deepest thanks!

Have a great Thanksgiving and holiday season!

Brian
They are in love!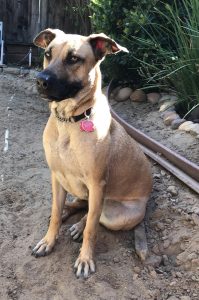 Sammy has found her gentle giant! Bernard is a very tall, STRONG man and my Sammy a midsize STRONG girl and they have hit it off!!!!

I was half hoping she would miss me, smile. Bernard is GREAT! Sam is so happy!!! I've gotten lots of pictures... videos....

I could go on and on....

Thank you...

Bernard is perfect.
Hugs, Colleen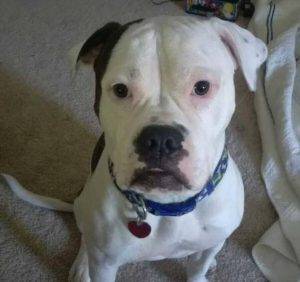 Roxy now has a forever home with Chrisina W and her wonderful family.

Thank you. Your program, for helping find homes for our wonderful furry family, is amazing. I am so blessed to have stumbled across your website. Thank you from the bottom or our hearts.

Best,

Kathryn D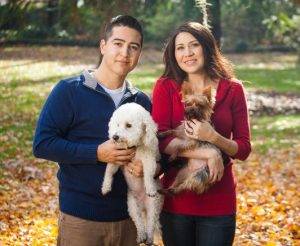 Dear Debbie,

I wanted to inform you that we have placed Chops with the Hayden family. They were a lovely bunch.

I want to express my sincere gratitude for all the work you've put in to help us. You've been amazing! This has been an easier process for us, thanks to your work.

Respectfully,

Bobby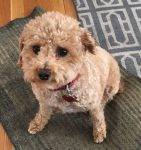 Debbie,

I took Frankie over to Debbie's this afternoon. It was such a joy to see how happy and excited Debbie and her entire family was to greet Frank and to make him feel at home. This was one of the most difficult things I have ever had to do, and both you and Debbie made it all so much easier.

I know that Frank is in a good home, a home that is perfect for him, a home that will help calm his nerves, and make him feel safe. I have no idea what I would have done if I had not found you. Your services are so needed.

I know that our family will be ready for another dog at some point, and I promise to be in touch. I am happy to write any testimonial you may need. You have made Debbie, my family, but most importantly Frank so happy.

Love,
Lauren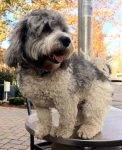 I never in a million years thought I would be in the position to have to make the very difficult decision to rehome my pets.

My caring rehoming specialist (Debbie Moore) was kind, compassionate, supportive and completely non-judgmental of my situation or decision. She was diligent in asking necessary questions about my pets in order to find them the very best situation in their new forever homes. Milo transitioned into his new home last month and he and his new owner are very happy together.

Although there was significant interest in my dogs, Debbie assured me to take my time in order that I was 100% comfortable in my decision to select the right home and owners for my babies; when I disqualified a candidate, she never got frustrated with me and encouraged me to be picky; Rigby's new family is overcome with love and emotion, have kept me updated with his transition and I'm truly confident that Rigby was somehow meant to bring joy to both our families.

My heart is broken without my babies, but I know they are receiving the love, attention and affection they deserve. Thank you petrehoming and specifically, Debbie Moore. You made a heart-wrenching situation as smooth as possible.

Best,

Dina Rutstein Executive HR & Business Consultant 845-803-1434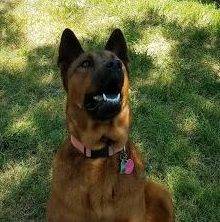 Hello Debbie,

Thank you for all your help in finding a family to adopt Rusty. The family that adopted Rusty will love and care for as a member of the family. Finding the right family is important because he got off a rough start. The screening process and introductions are well worth fee.

Being assured that he will be well cared for is the most important thing. Rusty deserved a good home and family. Thanks to your efforts and patience the right home was found. Also thank you for guiding me through the process.

Rolfe and Alison are wonderful people. I have received text messages and phone calls letting me know how Rusty adjusting. While we miss Rusty I know he is being well cared for and is making good adjustment.

I am more than happy to recommend you to anyone who needs to find a new home for a pet.

Thanks again for your help and efforts.

Veronica

P.S. Last report Rusty has glued himself to Alison and she is treating him like a little prince.
Hello there Debbie: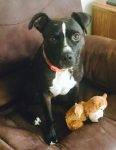 Domino was adopted yesterday by a wonderful family!! They don't live that far from us and they fell in love with her after meeting her.

You guys are awesome for helping us re-home her. My wife and I wanted to see her in a loving home instead of stuck back in the shelter. Thanks for everything you did for us. I hope you had a wonderful 4th of July.

-The Bosley's
Our family and dogs' angel!!!

I strongly would recommend Pet Rehoming Network if you are faced with the most difficult decision of having to rehome a furry friend.

Working with them, Debbie Moore directly, made this stressful and heartbreaking process as easy a possible for our family and most importantly our Bloodhound, Laney.  

She was judgement free, reassuring, and supportive.  She listened to Laney's unique traits, our concerns, and what we felt Laney needed in a family without jumping to breed-specific conclusions.

Our process sadly took 2 rehomings until we found the perfect match for Laney.  Through this Debbie never once gave up hope and continued to work hard to find Laney the perfect family.  She respectfully approached the second family when worry arose to find another home - one that couldn't be more perfect for Laney and kept an open and honest line of communication with me.

Pet Rehoming Network provided my family and I with relief and a furry family member we sadly had to say goodbye to a chance to truly be herself!  

Thank you Debbie and your team!!! You truly put the pets interest first!

A very thankful and relieved dog lover,

Alyssa