REHOMED Milo Cute Cockalear (Cocker Spaniel / Cavalier King Charles Spaniel Mix) New City NY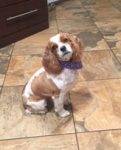 Milo has found  the most wonderful forever home ever! He is now living with Valerie, a retired dog lover, on Long Island.
Valerie said:
I am a retired RN and social worker. I have owned dogs most of my adult life. My beloved Penelope died in Oct 2016. She was a rescue from the Smithown Animal Shelter. She had been abused (someone put cigars out on the top of head). It took approximately 6 months for her to trust me enough to put her head on my shoulder.We then spent 15 of her 17 years together. I own my home which has a fenced yard for playing.When I traveled to visit grandchildren Penelope was a welcomed visitor as well. Hope you will consider me as a candidate to adopt Sweet Milo.
Need to Rehome a Dog in New York?
Contact our pet rehoming coordinator, or request NY Dog Rehoming Services now.
---
Here is how our New York pet rehoming team presented Milo to attract his new home:
Hi, My name is Milo!

Milo is the best kisser! He is so loving and cuddly. Being in a human/canine embrace is his favorite thing. This little cutie pie is called a "Cock-a-Lear" – a delightful mix of American Cocker Spaniel and Cavalier King Charles Spaniel. He is just 4, very healthy, up to date on shots and neutered. Milo is very well behaved, and is perfectly house broken.
He weighs just 25 pounds and has a handsome Red and White coat. Milo lives with his owners in New City, NY.
This affectionate little guy is a real charmer. He gets along well with everyone. Cats, other dogs, kids of all sizes and ages and people he has never met. He has a laid back and very loving personality. He is such a wonderful dog, and would fit in well with a family, a single or a couple, providing he gets the time, love, attention and care he needs and very much deserves.
His owners love him so much, but as their children have grown and their careers grown more demanding, having the time to spend with Milo and his brother, Rigby, and adorable Havanese dog,  is difficult at best. The dogs are on their own far too much of the time, and their owners worry about their well-being. These are dogs that want to spend time with people, and it isn't fair that they spend so much time alone.
The owners are dearly hoping to find a loving home for the boys (either as a pair – or individually), where they will be absolutely cherished. They want them to have the best home ever, with folks who have lots of time to devote to them, plenty of love to offer, and a safe, happy and healthy home. A nice, securely fenced yard would be the icing on the cake.
If you have been looking for the ultimate cuddle-pup, Milo would love to cuddle up with you. Please get in touch if you would like to meet Milo and offer him (or him and his brother) a loving home.
He can't wait to dazzle you with his dance moves, and show you the true meaning of unconditional love!
---
All About Milo
[one_half]
Name of Pet:
Milo
Location:
 New City, NY
Near: New York City, Newark, Jersey City
Type of Pet: Dog
Breed of Pet: Cock-a-lear
Sex of Pet: Male[/one_half] [one_half_last]
Age of Pet: 4
Spayed/Neutered?: Yes
Health Problems: No
Up To Date on Vaccinations: Yes
Gets along with cats: Yes
Gets along with dogs: Yes
Accessories Included: leash
[/one_half_last]

Milo's Personality
Sweet, loving and full of energy. Love's his human – and anyone who will give him attention. BIG KISSER
Milo's Current Home Environment
Active household with 2 teenagers and 2 busy, working parents. Dogs are confined to (large) kitchen when no one is home but do have a doggie door which provides access to the yard.
Milo's Current Family:
We are an animal loving family with 3 dogs & 2 cats. Due to hectic schedules and a change in jobs, no one is home regularly and our beloved pets spend too much time alone 🙁
Milo's Favorite Toys, Foods, Activities?
Milo loves bones and treats. We do not give him plush toys as he quickly destroys them. His number one favorite activity is to be pet, hugged, cuddled and loved. He is a BIG kisser and just wants to be in the company of his human.
Cute Milo Story:
Milo gets very worried when anyone (human or canine) is swimming in our pool. He will sit on a float in the pool, but doesn't like to swim much himself (unless he is swimming with one of out other dogs). Anytime there's activity in the pool, Milo will run around and around and around the pool (barking) trying to get our attention because he thinks they are in danger. It's very sweet.
Why is Milo Being Rehomed?
Due to hectic schedules and a change in jobs, no one is home regularly and our beloved pets spend too much time alone 🙁
It is not fair to them to be alone so much.
Milo's Perfect Adoptive Home Will Be:
Milo is great with people of all ages. A Family with children will adore him, and a senior couple will also fall in love right away. He rolls with any situation and is happy running around with kids or snuggling with his human.