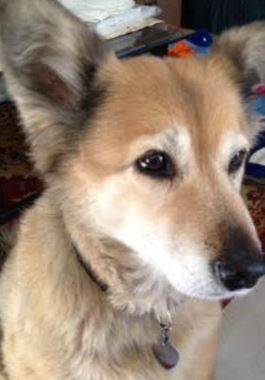 REHOMED – Beautiful Bizzi – Sweet German Shepherd/Shiba Inu Mix – Orange County
[margin10]
Bizzi has found a wonderful new home! She has been adopted by Susan and her family in Dana Point, CA. She now has a big family to keep her company, along with a securely fenced yard. We are sure that Bizzi is going to be spoiled rotten! What a happy ending for Bizzi and her owner, Sharon.
---
Hi, My name is Bizzi!
I am an incredibly sweet and devoted 10 year old Shiba Inu/German Shepherd mix looking for a loving home in or near Laguna Woods, CA. I am a female and weigh about 50 pounds. I have been spayed and am up to date on my vaccinations. My vet says I am very healthy and have lots of years of love and devotion to offer.
I get along well with other dogs, as long as we are properly introduced. I can be a bit nervous when I first meet people, but I soon warm up and am so loving and affectionate.
My owner, Sharon, loves me so very much, but we are in a real pickle. She is a senior, and we recently moved to a seniors apartment complex. I don't like to be left home alone and I cry when she has to leave me to go to the grocery store or to socialize. My crying is upsetting to our neighbors, and they have been complaining to Sharon about me.
Sharon is so heartbroken about our situation. She called Debbie from Find My Pet A Home for help to come up with a solution to our problem. Sharon adopted me from a shelter when I was a younger dog. I had come from a bad situation where I had been beaten, so I have some trust issues (and who wouldn't?).
Debbie feels that there are lots of dog lovers out there who would welcome the opportunity to share their home and hearts with a great dog like me. I have so much to offer in the way of love, companionship and devotion. All I need is to live with someone who owns a house, so that my occasional crying isn't going to disturb others.
When we lived in our own house, this was not a problem at all. Sharon would just put me in my special room if she had to leave me for a short while. With the rather crotchety neighbors we have now, my crying is making things difficult.
My ideal situation would be a quiet home with a retired person or couple, or a work-from home family.  I do love children, but would be best suited for older kids who are not at the tail pulling, eye-poking stage of life. Occasional visits from Grandkids would be wonderful.
Sharon would love to keep in touch with me, and even take care of me for my new owners when they go away or need someone to watch me for a weekend, evening or overnight. She is hoping that my new family will be like her extended family.
Please offer me a loving home today. I am such a good girl. So cute and affectionate. I love nothing more than to lay at your feet adoring you.
For more information about me, please feel free to call Debbie Moore, my pet rehoming coordinator at (888) 720-3322. If you would like to meet me, we would appreciate it if you could fill out our form here: http://petrehoming.net/adopt-a-pet/, which gives Sharon enough information about you to feel comfortable and safe inviting you to our home in Laguna Woods CA.
---
All About Bizzi
[one_half]
Name of Pet:
Bizzi
Location:
Laguna Woods, CA, 92637
Type of Pet:
Dog
Breed of Pet:
German Shepherd Mix
Sex of Pet:
Female[/one_half] [one_half_last]
Age of Pet: 10
Spayed/Neutered?: Yes
Health Problems: No
Up To Date on Vaccinations: Yes
Gets along with cats: No
Gets along with dogs: No
Good with Children?: Yes
House Broken or Litter Trained?: Yes
Crate Trained?: No
Accessories Included: Anything the owner has.
[/one_half_last]
Bizzi's Personality
She is smart.
She is beautiful.
She loves you unconditionally.
She is very well behaved.
She is very affectionate.
Bizzi's Current Home Environment
Lives with a senior lady who has recently relocated to an apartment complex. Because she gets upset being left alone and cries, it is an issue for other residents in the building.
The owner is absolutely heartbroken to have to make this very difficult decision, but she cannot take Bizzi with her everywhere. She is hoping to find a loving home for Bizzi with owners who have a house and fenced yard, and where someone is home most of the time. Living in a house, it would not be an issue with her crying, should you have to go out.
Bizzi's Current Family:
Single retired senior citizen living alone in an apartment complex.
Bizzi's Favorite Toys, Foods, Activities?
She loves her comfy bed. Lying at your feet. Being near you. Tummy rubs. Special treats.
Cute Bizzi Story:
Why is Bizzi Being Rehomed?
See above.
Bizzi's Perfect Adoptive Home Will Be:
See above
Additional Comments:
Owner would very much love to keep in touch and visit. She would be happy to take her for occasional weekends or overnights if the new owners are open to it.
The love that the owner has for Bizzi is very strong and she hopes this is not goodbye, but hello to new friends.